State of the art laboratories:
Front office: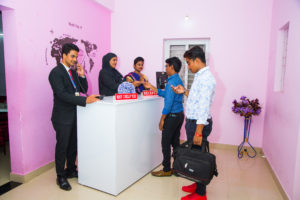 Front office Desk with Global Timing system, and opera software which is used in hotels around the globe. Where the student will be trained about the check in check out procedures, cash handling, night auditing, guest relations, single lady policy and concierge services.
House keeping Lab :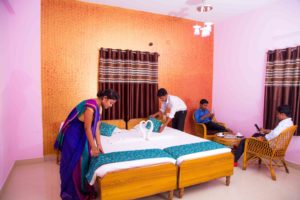 Fully Equipped industry oriented Housekeeping Lab, display counter of chemicals used in industry. Two different kinds of beds along with latest Lenin used in the industry, along with the industrial vacuum cleaner, complete bed set up and room décor. Different types of towel folding to impress the guests.
F & B Service Lab :
40 cover restaurant in which student will be trained about the different types services used in global restaurants. Barista coffee machine to know the types of coffees served in barista café. Students will be trained to organize the special events, outdoor caterings, and are allowed to join in part time jobs to improve their service ability and practical knowledge on the industry.
Demo Bar: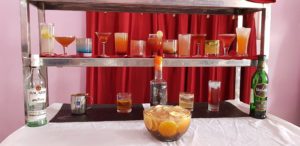 200 feet specially designed bar counter to teach the students about bartending, mixology classes in alcohol and non-alcohol beverages. Students practice the trendy procedures in juggling with the demo bottles with the help of master trainer who has vast experience in bar tending.
Food Production: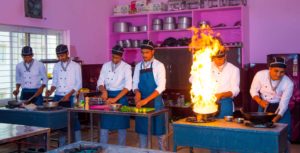 600 feet vast kitchen equipped with stainless steel rangers which can accommodate 30 + students. Students get a chance of learning about the different types of kitchens like Basic Training Kitchen (BTK) Advanced Training Kitchen (ATK), Quantity Training Kitchen (QTK) along with industrial oven to know about the basics and medium level knowledge about bakery and confectionery.
Audio Visual Classroom: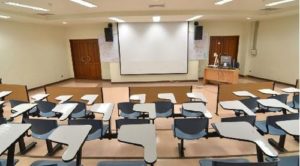 This class room is digitally equipped with the ceiling projector to showcase the guest videos, power point presentations and to train the students in foreign English accent.
Air conditioned Class rooms: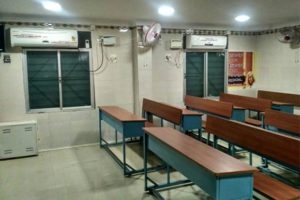 All our class rooms are completely air conditioned to provide the best comfort to our students.
Library: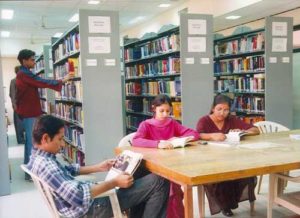 1000+ books from Industry expertise books, books from American hotels and lodging association, FHRAI magazines, personality development books from the best authors around the globe.  This kind of books updates the knowledge of any hospitality student about the current changes in industry, to upgrade their wisdom in various departments.